IVF Doctor and Specialist Gynaecologist in Delhi NCR
IVF centre in Delhi - Risaa IVF
Among the multitude of IVF centres, Risaa IVF stands out as the best IVF centre in Delhi. Owing to its highest success rate and unconventional approach to IVF treatment, Risaa IVF provides best-in-class fertility treatments of international standards. Senior doctor and chairperson of Risaa IVF – Dr. Rita Bakshi, is recognized among the best IVF specialists in India. She has performed numerous successful IVF treatments for local as well as international patients. Risaa IVF is comparable to international fertility centres in countries like the USA and UK.
About 10-15% of couples struggle with fertility issues, and after trying several fertility treatments, IVF becomes their dernier resort. IVF is said to be the most practiced assisted reproductive technique out of all. Consequently, there are plenty of IVF centres in Delhi. In fact, Delhi is considered an IVF hub in India. Unsurprisingly, IVF is the most sought fertility treatment among infertile couples, but couples considering IVF treatment find it tough to choose the best IVF centre in abundance.
What is IVF Treatment and the need for IVF Treatment?
IVF, or in vitro fertilization, is a fertility treatment in which the eggs are fertilized with sperm by mixing them together in a cultural medium in a laboratory outside the uterus. It is a type of artificial fertilization through assisted reproductive techniques. After fertilization, the egg is placed inside the uterine cavity to bring about implantation resulting in a successful pregnancy.
IVF is performed when a couple or individual cannot get pregnant through natural conception, even after constant attempts for an extended period. The trouble in getting pregnant is known as infertility, and it can be a consequence of reproductive disorders in both males and females. Any obstruction in the way of sperm reaching the egg and in the way of embryo implantation – can hinder pregnancy. IVF aid with such hindrances and assists with the process of fertilization and implantation.
Certainly, IVF is not the only option. There are other first-line fertility treatments, such as fertility medications, IUI, etc. However, IVF is implemented if other fertility treatments fail to work for the couple. That said, IVF treatment has the highest success rates among all fertility treatments.
IVF Treatment is needed if:
Fallopian tubes are blocked or severely damaged
Ovulation problem
Severe endometriosis or uterine fibroids
Male factor infertility is severe
Opting for donor eggs, sperm, or embryos
Opting for previously frozen eggs
To prevent the child from inheriting genetic disorders from parents
The procedure of IVF treatment
Based on the diagnosis, the fertility doctor lays out a personalized and effective treatment plan for the patient. Remember, IVF is an option. Our doctor always looks for a more non-invasive alternative treatment for you. That's why we aren't only one of the best IVF centres in Delhi but also the best fertility centre in Delhi.
Procedure after diagnosis:
Low or moderate Ovulation stimulation (if required)
Egg retrieval or Egg collection
Sperm collection or sperm aspiration (PESA/TESA)
Sample wash-up
In vitro fertilization
Embryo development up to blastocyst stage
Fresh Embryo transfer
Pregnancy tests
Risaa IVF - People's choice for Best IVF centre in Delhi
Risaa IVF is one of the leading IVF centres in Delhi, providing complete fertility care under one roof. On record, we have successfully delivered 10,000+ IVF cycles and led hundreds of couples in the direction of parenthood. Our objective is 'to provide at least one child per couple.
We take personal care of our patients with great empathy and support in their journey of achieving pregnancy with IVF treatment. Over the course of 20+ years, we have built a team of highly professional doctors, embryologists, urologists, nurses, client managers, lab technicians, and overall staff. Our team is committed to providing the best service to our patients.
At Risaa IVF, we follow a standard diagnosis protocol to find the underlying cause of infertility. The treatment plans are put together according to individual diagnoses to produce effective results. Throughout the IVF process, we measure all the quality control and facilitate the process with precision. This is one reason why our IVF success rates are high.
Advanced Infertility treatments are provided at Risaa IVF - The best IVF centre in Delhi
When it comes to infertility treatments, every couple or individual has unique fertility needs. Therefore, we offer a variety of fertility treatments and alternative ART techniques to be paired with IVF, such as;
IUI – Intrauterine insemination
IVF – In Vitro fertilization
ICSI – Intracytoplasmic sperm injection
Blastocyst Culture
Laser Assisted Hatching
FET – Frozen Embryo Transfer
PGS and PGD – Preimplantation genetic screening and diagnosis
Egg, sperm, and embryo donor
Cryopreservation
Endometriosis Treatment
PCOS/PCOD treatment, etc.
The clinic has vastly experienced and professional gynecologists, embryologists, and general staff working harmoniously to provide the best fertility care.
What makes Risaa IVF the best IVF centre in Delhi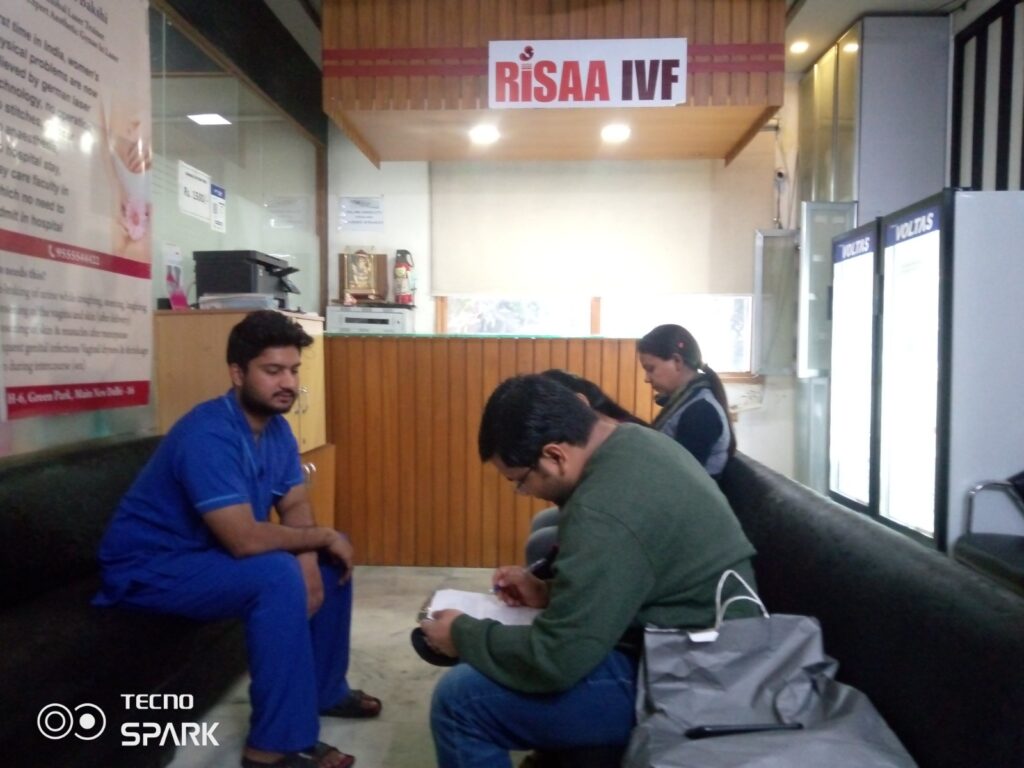 There are more than one reasons that Risaa IVF is recognized as the best IVF centre in Delhi:
We provide personalized IVF treatment plans because we fathom that every patient has unique fertility needs.
The clinic facilitates world-class treatments with state-of-the-art medical equipment and technologies.
Our fertility specialists are extensively trained and have vast experience.
We work with a result-oriented mindset and ensure quality control throughout the process.
We provide our patients with effective treatment plans.
Our clinic maintains transparency with patients and does not withhold any necessary information from them. We hold an ethical approach to providing fertility services.
Risaa IVF takes preventive measures to avoid and lower risks and complications during IVF or any other treatment.
Our staff provides not only medical but also emotional support to our patients.
Our partners are best-in-the-field fertility agencies, laboratories, and Pharma companies.
What is the success rate for IVF treatment at Risaa IVF?
Compared to other fertility clinics, Risaa IVF proposes a realistic IVF success rate to our patients depending on their age, infertility factor, lifestyle, and general fertility needs. The success rate for IVF treatment at our clinic is about 45-60% and varies according to the patients.
We work intimately with our patients to suggest to them the best treatment to achieve conception. By incorporating the latest ART technologies and equipment, we actively attempt to increase the success rates for fertility treatments.
What is the Cost of IVF Treatment at Risaa IVF?
Although Risaa IVF is one of the best IVF centres in Delhi, it is reasonably affordable for couples seeking IVF treatment. Considering the complexity of the IVF procedure and the level of expertise required, the cost of IVF packages is justified.
The cost of IVF treatment for IVF with self-eggs ranges from 1.5 to 2.5 lakh. However, the IVF treatment cost in Delhi is subjective to individual patients since every IVF journey differs. Moreover, we provide a transparent pricing system without any hidden charges. We have various IVF packages constructed to fulfill the different fertility needs of patients.
Dr. Rita Bakshi [MD (OBS & GYN), MBBS, ART Specialist
Dr. Rita Bakshi is an internationally recognized IVF specialist and leading gynecologist in India. She has experience of over 30 years in IVF and fertility health. Dr. Bakshi is extensively trained in women's reproductive health. Under her leadership, Risaa IVF has emerged as the best IVF centre in Delhi and India. Her motto is 'to provide at least one child per couple,' and she has been delivering in this field with the same spirit.
Closing words
Choosing Risaa IVF for your IVF treatment is one step closer to your child. We understand what you are going through. Infertility is a rough patch, and considering IVF treatment is stressful since it requires an emotional and financial commitment. We ensure to make your IVF journey smooth with our full consideration.
Here are certain deciding factors which evaluate the best IVF centre in Delhi:
Experience of fertility specialists
The success rate of the clinic
Effective fertility treatment plans
Transparent, honest, and ethical practices by fertility centre
Affordable Cost of IVF treatment
Optimal location of centre
Success testimonials
Risaa IVF meets all the required needs to be the best IVF centre in Delhi.
Risaa IVF provides a realistic IVF success rate of 45-58%, which is the highest compared to the average success rate of IVF treatment in India, i.e., 40-45%.
Usually, it takes 4-6 weeks, considering the natural IVF cycle. But, in other cases, it can take longer than 5-6 weeks. The first IVF cycle is not always a success, and you might have to try more IVF cycles; months apart. So it can take significantly longer.